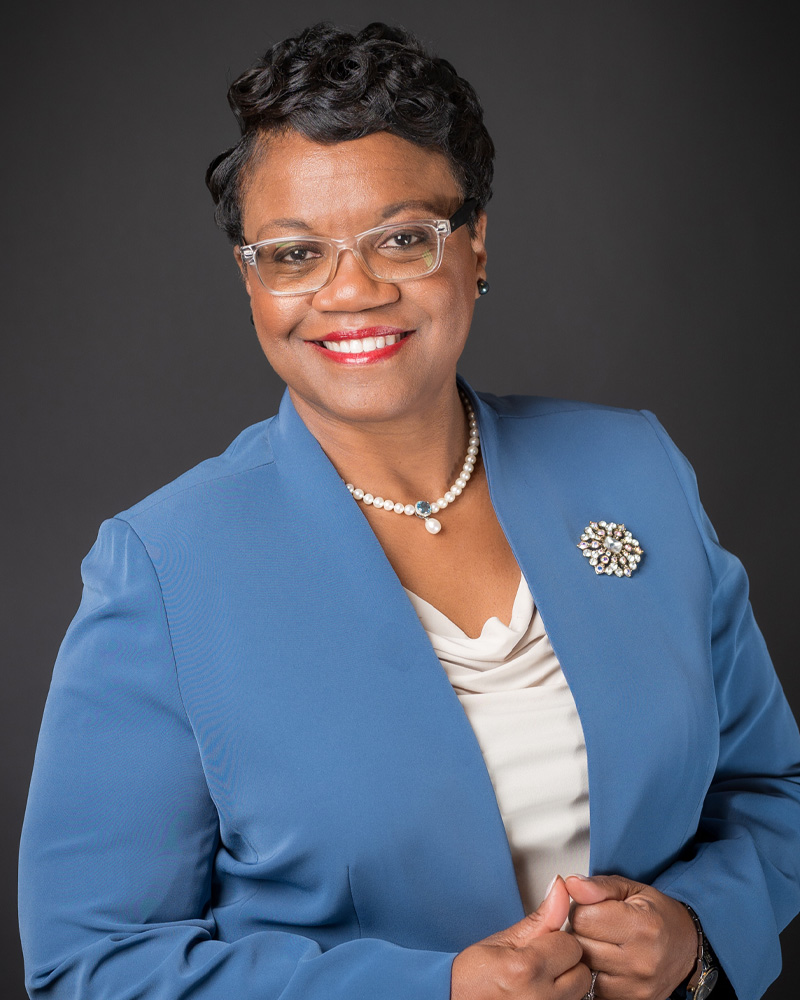 Kimberly Beatty, Ed.D., began her tenure as Metropolitan Community College's eighth chancellor on July 1, 2017. She was formally installed as chancellor at an inauguration ceremony on Aug. 24, 2018.
Dr. Beatty came to MCC from Houston Community College and has enjoyed over thirty years in higher education. Beatty's commitment to the community college mission has been realized through her service as a faculty member, program manager, dean, associate vice chancellor, vice chancellor and chief academic officer, and now chancellor. Throughout her career, she has aligned her leadership philosophy with the mission of community colleges and is laser focused on creating equitable access to higher education, especially for the underserved.
A champion of access and equity, she is devoted to the community college mission of providing access to higher education for all. "I am passionate about the community I serve and excited about the ability to provide higher education access to the underprivileged and underrepresented," Dr. Beatty says.
As a lifetime educator, Dr. Beatty has made intentional strides in developing and providing the leadership for the development of programs that support students and meet the needs of the business community. At MCC, Beatty casted a vision that built upon the existing Institutes at MCC. In collaboration with the executive leadership team, Beatty led efforts to develop the Advanced Technical Skills Institute in the heart of the city with Automotive and Agriculture Institutes under development.
As the architect of the last two MCC strategic plans, Dr. Beatty has a bold vision for MCC and its footprint in Kansas City. Dr. Beatty is dedicated to the Kansas City community through board and volunteer service. She is a member of the Greater Kansas City Chamber of Commerce, Civic Council; Full Employment Council Board, Downtown Council, University Health System and more.
Dr. Beatty also remains active on the national level keeping MCC at the forefront of key initiatives impacting student success. Beatty is currently serving on the Advisory Board for the Higher Learning Commission and served on the Board, Executive Board and Commission for College Readiness for the American Association of Community Colleges.
As a three-time graduate of Morgan State University in Baltimore, Dr. Beatty received a B.A. in English, an M.A. in English, and an Ed.D. in higher education, with a specialization in community college leadership. Beatty's leadership has earned her several awards and recognitions in the community.
Dr. Beatty is a thought leader in the equity and leadership space. Beatty recently co-authored a book, Transformational Change in Community Colleges: Leading with an Equity Lens as well as a host of other articles on equity and leadership.
Dr. Beatty is married to Kelvin Beatty. They are proud parents of three sons, Kelvin Jr., Michael and Ian. They also have five grandsons.
Chancellor Beatty statements
I offer this statement in light of the recent Supreme Court decision regarding Affirmative Action.

MCC has an open admission policy, which means all students who apply for admission are accepted to all of the MCC colleges. While this decision will not directly impact the majority of our offerings, we are reviewing all our programs to ensure we adapt our strategies with great respect for the legal boundaries.

The law may change, but MCC's commitment to educational equity and access will not.

Our mission is to provide public access to lifelong learning that empowers individuals, fosters community and promotes progress in the Kansas City region. We take inspiration in our mission of Preparing students, serving communities, creating opportunities for all.

As President Obama stated following the ruling, "Now it's up to all of us to give young people the opportunities they deserve — and help students everywhere benefit from new perspectives."

Last May, the world watched in horror the video of George Floyd losing his life at the hands of then-Minneapolis police officer Derek Chauvin. On April 20, the attention of the world was once again focused on Minneapolis as a jury convicted Chauvin on three counts, including the second-degree murder of Mr. Floyd.

While this verdict brought a measure of relief to the Floyd family and many in communities of color, we cannot now turn a blind eye to continued acts of police violence, particularly those against populations of color.

Metropolitan Community College continues to stay committed to teaching and embracing the ideals of equity, justice and diversity. We are also committed to training and graduating police officers through our Public Safety Institute who are dedicated to protecting and serving all members of society. Only through education and dialogue, and the resulting reforms, can true progress be made in ending this cycle of violence that has for too long been a sad chapter in our country's history.

The past 12 months have been a time of great tragedy, challenge and achievement in this country. Unfortunately, for a segment of our society, Asian-Americans, a rash of violent attacks have also made this a time of growing fear. The images and stories of physical and verbal assaults against Asian-Americans have been truly heartbreaking. The fact that so many of these assaults have been conducted against the most vulnerable of our fellow citizens makes the attacks even more disturbing and the actions of the attackers more hateful and cowardly.

In the wake of these attacks, Metropolitan Community College stands more resolved than ever to support diversity education and to address the root cause of these attacks. The important truth is, words have consequences. While this pandemic has been stressful on us all, scapegoating and targeting a segment of our population is never an acceptable course of action.

I am encouraged to see our elected leaders speaking out against this violence. My hope is that strong stances from our leaders will lead to a swift reduction in violence and open important channels of dialogue. These attacks on Asian-Americans, following so closely on the heels of the attack on the United States Capitol where hateful and racist imagery was on display, and as the trial in the murder of George Floyd gets underway, make it clear how far we as Americans have to grow in race relations. Let's not let hate overcome what should truly be a season of hope and renewal.

Dr. Kimberly Beatty
Chancellor