The MCC Cybersecurity Center has been established to promote cyber-awareness to meet the growing need for a well-trained cybersecurity workforce. Through efforts directed at becoming a National Center of Academic Excellence in Cyber Defense Education, the MCC Cybersecurity Center has the following goals:
Be a resource to promote (CAE-CD) programs, news, events and security awareness broadly.
Provide high quality and rigorous (CAE-CD) programs designed to meet the needs of employers in the public and private sectors.
Provide affordable and flexible (CAE-CD) education and training options that help promote student achievement, retention, completion and placement.
Provide innovative, comprehensive and interdisciplinary education and training in the (CAE-CD) field.
Continuously develop working relationship models for K-12 schools to engage students at an early age to enter (CAE-CD) fields of study. Develop and maintain articulation with four year institutions in the CAE framework.
Continuously improve the quality of (CAE-CD) programs, curricula, faculty, students and sponsored relationships with industry and community partners.
Provide leadership and obtain sponsored research funding from both the National Science Foundation and National Security Agency in support of our CAE-CD efforts.
Programs of study at MCC
Students wishing to pursue careers in cybersecurity can choose from the following learning paths. For additional information, we encourage you to speak with an academic advisor and attend a cybersecurity information session.
Associate of Applied Science (A.A.S.) degree options
Center of Academic Excellence in Cyber Defense (CAE-CD)
The National Security Agency and the Department of Homeland Security have designated Metropolitan Community College Kansas City as a National Center of Academic Excellence in Cyber Defense (CAE-CD) through year 2023.
Resources
Metropolitan Community College is committed to information security and the protection of student, employee and all other sensitive data.

Through efforts such as annual information security awareness training for all employees, additional focused training for specific job roles, maintaining updated policies and procedures, providing resources and offering training programs related to cybersecurity,

MCC has developed a culture where cybersecurity is a priority within the institution as well as academically. Following are some free resources related to security awareness:

MCC has maintains the following partnerships in an effort to provide rigorous programs with high quality curriculum that aligns with industry standards and certifications

Students pursuing careers in cybersecurity have access to a variety of resources and are offered opportunities to engage with industry and employer partners in the following ways:

Articulation and transfer agreements with area four year institutions.
Campus visits from employer recruiters
Employer site visits and tours
Networking opportunities including social media groups
Resume and job search resources including interview coaching
Certification exam preparation workshops
Access to extended open computing lab time
Certified faculty with industry experience
Access to faculty advising
Regular course offerings with plans to complete degrees and certificates in two years or less
Many courses available in evening, online and hybrid format

Students are also encouraged to join the cybersecurity club, the National Cybersecurity Student Association, as well as participate in cybersecurity competitions such as those offered through the National Cyber League.
Community engagement
Faculty and students of the program are always looking for ways to build community relations. Most recently, Englewood Arts Center, in western Independence, MO requested MCC-Blue River's expertise to help confront cyber security risks threatening community spaces.  
Professor Brian Hurley and his students recently spent the afternoon in the arts center creating sustainable solutions to prevent Englewood Arts Center from being subject to a cyber-attack or accidentally sharing valuable customer and donor information.
They also created a plan of action for new hardware and software that could be added in the future. MCC-Blue River is grateful to partner with the Englewood Arts Center and will continue to support opportunities for community involvement and learning.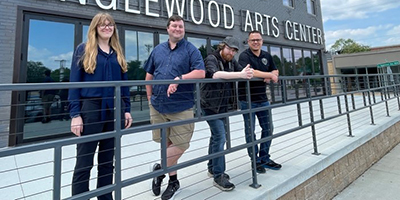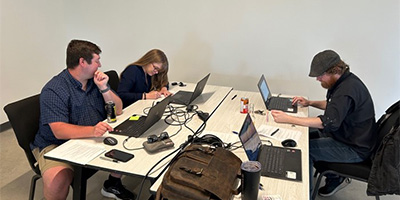 Faculty
The Secure Systems Administration and Engineering (Cybersecurity) program relies on high quality faculty for teaching and learning activities, maintaining curriculum, assessment, student development, and program management.
The faculty comes with years of industry experience, and many are still working in industry through full time, part time, or in consulting roles. Program faculty hold advanced degrees in information technology, cybersecurity, computer science, business, and other related fields.
Certifications held by program faculty include those from ISC2, CompTIA, Cisco, SANS, as well as other vendors.
Funding by the college, as well as through various grants, provides various opportunities for faculty to engage in continued professional development.
The lead full-time faculty and program coordinator for the Secure Systems Administration and Engineering (Cybersecurity) program is Brian Hurley, CISSP. Brian has over 20 years of experience in the industry and holds a variety of certifications. His undergraduate degree is in Information Systems Management. His Master's degree is in Information Security, and he has completed doctoral work in information technology and security governance.
Advisory board
The Secure Systems Administration and Engineering (Cybersecurity) program relies on valuable input from a variety of stakeholders.
Each year, an advisory board convenes to discuss the current state of the program, accomplishments, industry trends, and opportunities for improvement. Advisory board members consist of stakeholders from the following groups:
Practitioners from various industries and job roles
Faculty and leadership from 4-year transfer schools
Faculty and leadership from area high schools and career and tech centers
Program alumni and current students
Community members
Faculty and leadership from MCC