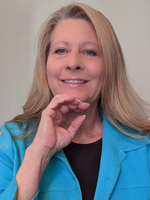 Jennifer Snow holds a Master's of Science in Education with an emphasis in postsecondary education/agency counseling and is a licensed professional counselor in Missouri.
Shortly after completing graduate school, she began working as a counselor at the Educational Opportunity Center (EOC). One of her earliest and most vivid professional memories was as a new EOC counselor presenting educational and financial aid information to an adult education class. After the presentation, an older gentleman raised his hand. He said he was ready to test for his high school equivalency and, with a tear in his eye and a smile, asked, "did what was said in the presentation mean that he could continue his education, possibly for free?"
That possibility had not occurred to him before.
Jennifer realized then that her position at the EOC program provided the wonderful opportunity to inform and assist individuals with obtaining their educational goals. As director of the Kansas City EOC, Jennifer still enjoys working with participants and their children to achieve their educational goals. She ensures the program continues to uphold quality services and outreach to those that want to further their education.
The EOC is one of the TRIO programs that began under Lyndon B. Johnson's War on Poverty Initiative. He stated, "Education is not a problem. Education is an opportunity".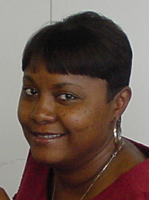 Administrative/Financial Aid Assistant
Rufina Nelson has worked at the Kansas City Educational Opportunity Center for over 25 years. She enjoys working with the students, hearing their stories and helping them in any way she can.
Daryn grew up in Cedar Rapids, IA. Upon graduation from high school, he decided to leave Iowa to attend the University of Missouri-Columbia, where he graduated with his bachelor's degree in psychology.
Daryn's career began by serving with the Missouri College Advising Corps (an AmeriCorps program) as a college advisor at William Chrisman High School in Independence, MO. Following his two-year experience there, the Kansas State College Advising Corps welcomed him as a hybrid college adviser that partnered closely with KC Scholars. As an advisor at the EOC, Daryn intends to continue supporting diverse learners in attaining the education they need to accomplish their goals.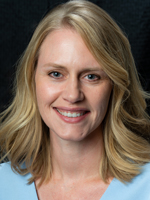 Jaime Alabi began her career in higher education in 1999 as a student worker in the financial aid office at Butler Community College.
She was the first in her family to go to college; she felt like an outsider trying to navigate college processes and maintain good grades while working road construction during summers to make ends meet.
Notwithstanding a few bumps in the road, she completed an associate degree, followed by a bachelor's degree in spanish at Emporia State University and began working as a financial aid counselor. Ten years later, she returned to school and completed a master's degree in counseling at Concordia University Chicago.
Upon returning to KC, she eagerly accepted a position with the EOC in January 2017, allowing her to draw from her financial aid knowledge and experience as a student to assist those in the community interested in pursuing a college path. Acknowledging that even though she first stepped foot on a college campus as a first-generation student, she still entered with a lot of privilege.
She values the opportunity to assist students from all backgrounds and walks of life in working toward their academic and career goals.
"I have learned that success is to be measured not so much by the position one has reached in life as by the obstacles which he has overcome while trying to succeed."
~Booker T. Washington