Each year MCC students, faculty, staff, and administrators volunteer time to fulfill the college's mission of serving communities and enhancing the larger community MCC serves. Several opportunities are offered throughout the year for students and employees to be part of a strong MCC tradition of celebrating community service.
This year's highlights include:
2023 Martin Luther King Jr. Food Drive
Metropolitan Community College is dedicated to celebrating Dr. Martin Luther King Jr.'s legacy of humanity and service by continuing to give back to our local communities. MCC kicks off the celebration on January 13, 2023, with the Martin Luther King Jr. Scholarship Luncheon to raise scholarship funds for MCC students.
The following week, each campus is hosting a canned food drive the week of January 17 - 21, 2023, which falls in the same week as MLK Day and the first week of spring 2023 classes! The items collected will be donated to a local food bank, shelter or community agency within each of the campus service areas.
Read what previous year participants had to say about volunteering:
Service is a great way to get together and have fun while meeting new people! - MCC Student
It is a great way to honor all of the hard work that Dr. Martin Luther King Jr. did, so what better way to honor him than to give back to the community by helping out! - MCC Student
If everyone does a little, then we can achieve big things. Someone once said that service is how we pay rent for living on this planet. I am way behind on "paying rent," so I have a lot of things I need to do, and I am glad to be a part of MCC's MLK service activities. - MCC Faculty
2023 9/11 Day of Service
There has been a national movement in recent years to transform the anniversary of 9/11 into a National Day of Service.
Morning, afternoon, and virtual community service opportunities will be available to accommodate student schedules. Stay tuned…more information will be posted soon!
Volunteer Service Activities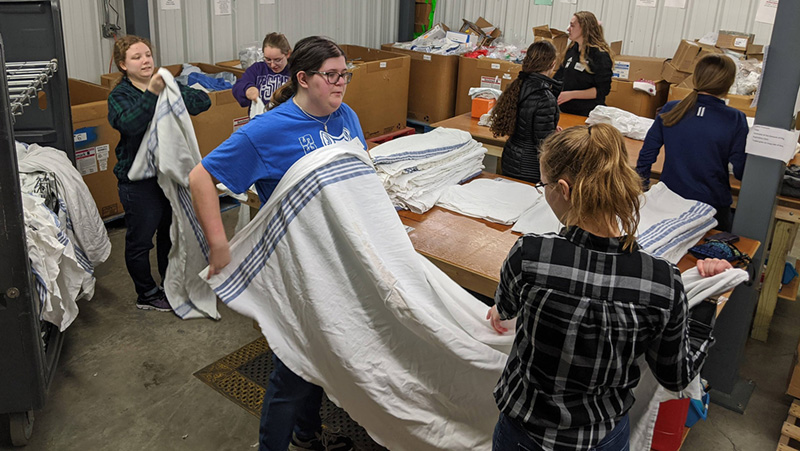 Here (in 2020), student volunteers from MCC-Blue River sort items such as medical supplies and bed sheets at the Franciscan Mission Warehouse in Independence.
Do you teach a service-learning course or advise a student club that participates in community service projects? Email mcc.studentengagement@mcckc.edu with details so we can highlight your efforts.
Are you a non-profit, community organization that would like to partner with MCC to coordinate volunteer opportunities for students and employees? Email mcc.studentengagement@mcckc.edu
Learn more about how Metropolitan Community College serves the community through our Civic Action Plan (PDF).