Starting this year, MCC will have two commencement ceremonies instead of one … both on a Thursday
---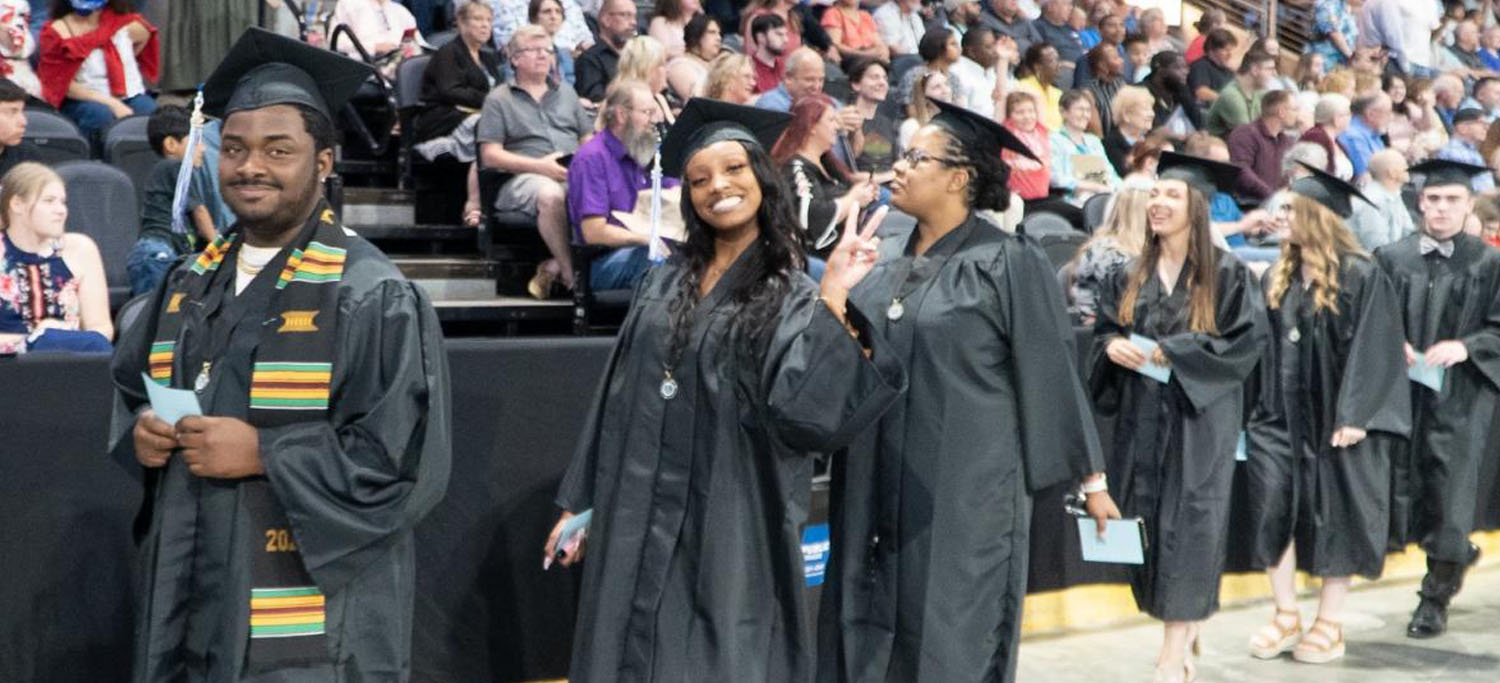 For the first time, Metropolitan Community College will hold two commencement ceremonies instead of one. This year, on Thursday, May 18, grads and their families can choose to attend either a 1 p.m. or 6 p.m. ceremony.
Offering two opportunities to celebrate the Class of 2023 will mean a shorter program. "We're hoping to decrease the ceremony times and focus more on our students," says Chris Shobe, MCC director of student success.
Instead of 900-1,000 grads "walking" at one ceremony, organizers are hoping to have about 450 students at each of the new times. Another change this year: no keynote speaker.
But there will still be a student speaker at each ceremony (this year, from MCC-Penn Valley and MCC-Online). And there will be two Distinguished Alumni Award recipients (again, one at each program) either speaking briefly or featured in a short video.
With those changes, each commencement program should last about 90 minutes — which would knock about an hour off the typical run time.
The ceremonies (and graduate receptions) will be held for a second year at Cable Dahmer Arena in Independence. Last year's commencement started at 7 p.m. and wrapped up at about 9:40.
Another big plus, Shobe says, is that the College won't have to dole out a certain number of guest tickets to each graduate. With 450 or so grads taking part at each event, they'll be able to "invite any and all family and guests. … We know students have been frustrated about how many people they can actually invite."
As for how many people a middle-of-the-day Thursday commencement will attract, "I'm expecting that we'll have a true split, that we'll actually have half and half" at each ceremony, Shobe says. "I think we will be surprised that some folks will want to come during the day and be able to celebrate with their family at night. I could be completely wrong."
In a survey of some other colleges, MCC learned that weekday commencements have been held at various times, including at 11 a.m. and noon. The main takeaway: Don't try conferring some degrees at one ceremony and other degrees at another ceremony. So MCC will be presenting all degrees at both 1 p.m. and 6 p.m.
The ceremonies will continue to feature a slide for each grad, but thanks to a technical snafu last year, MCC faculty members will announce the graduates' names live this year instead of a pre-recorded professional announcer.
MCC started holding one unified, all-campuses commencement in 2012 at Municipal Auditorium downtown. Then came the pandemic. The 2020 graduation event was a virtual one, in 2021 it was at Starlight theater, and last year's venue was Cable Dahmer Arena.
>> Questions and answers about 2023 MCC commencement