We knew Mr. 700, Albert Pujols, as a 19-year-old MCC baseball player
---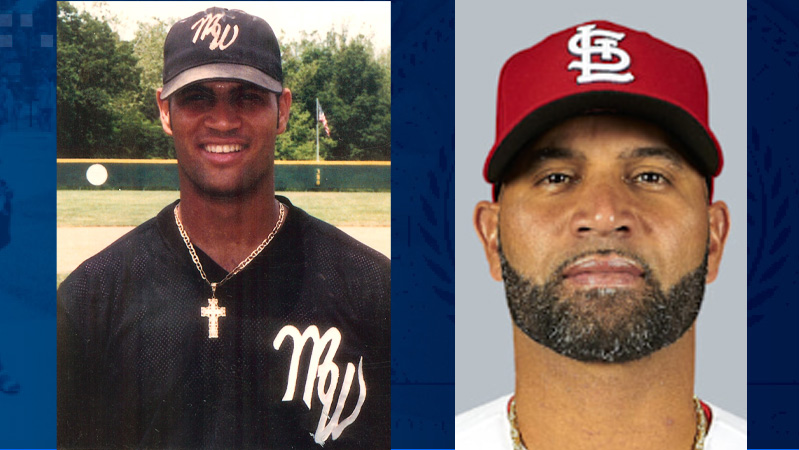 It's been 23 years, but at Metropolitan Community College we're not likely to forget Albert Pujols, who on Sept. 23, 2022, hit his 700th career home run in a game between his St. Louis Cardinals and the Los Angeles Dodgers in L.A.
Making the achievement even sweeter: Pujols, at 42 the oldest player in the majors, is in the final season of his MLB career.
Dodgers manager Dave Roberts called the players who've reached the 700-home-run mark "the Mount Rushmore of sluggers." Pujols now occupies the same rarefied air as Barry Bonds, Hank Aaron and Babe Ruth.
Pujols spent one season — the spring of 1999 — at MCC-Maple Woods in Kansas City North under current head baseball coach Marty Kilgore. This was back in the pre-MCC Wolves days when each campus had its own teams. That year, the Maple Woods Monarchs won the NJCAA Region 16 Championship, and Pujols was named an NJCAA All-American.
A native of the Dominican Republic, Pujols attended high school (and played baseball) at Fort Osage in Independence. He graduated early, in December 1998, so he could play college ball. In his one and only college season, the 19-year-old Pujols (position: shortstop) batted .466, with 22 home runs.
Pujols was drafted by the Cardinals in June 1999, but as a 2018 CBS Sports article points out, he wasn't a top pick as an amateur. St. Louis selected him in the 13th round (402nd overall pick). In 2001, after being promoted from the minors, Pujols was named National League Rookie of the Year.
"We knew he was a great player and he would get the opportunity to go on and do some special things," Kilgore, his MCC coach, told KCTV5 recently, "but I don't think when he was here anybody could predict that he was going to hit 700 home runs or be Rookie of the Year or anything like that."
After helping the Cards win World Series titles in 2006 and 2011, Pujols signed as a free agent with the Los Angeles Angels in late 2011 and stayed there until moving across town to the Dodgers in 2021, where he played half a season.
Last March, the player known as "The Machine"/"La Maquina" inked a $2.5 million deal to return to St. Louis for a farewell season. "Oh, he's got something left," Cardinals manager Oliver Marmol said then. "He's got more than something left." Yep, he sure did.