Chancellor's Martin Luther King Jr. luncheon, featuring attorney Ben Crump, raises $130K for scholarships
---
Two years earlier, an ice storm kept some people away. Last year, COVID-19 forced the event to go virtual. This year, the challenge was a variant named omicron.
But the Metropolitan Community College Chancellor's Martin Luther King Jr. Scholarship Luncheon carried on, both in-person and virtually. About 300 guests were on hand at the new Loews Kansas City Hotel downtown, with masks required, socializing discouraged and tables spread well apart in the posh hotel's largest event space. Another 200 or so watched the livestream.
The Jan. 14 MLK luncheon raised about $130,000 (after expenses) for student scholarships, a total that included $12,500 donated during a live "Fund-A-Need" auction at the end of the luncheon (online viewers could text in donations). A canvas painting created for the event by artist Felix Maull was also auctioned off, bringing in $4,500.
In addition to honoring the legacy of Dr. Martin Luther King Jr. and supporting the success of MCC students, the luncheon was an opportunity for guests to hear from keynote speaker Ben Crump. The Florida-based attorney has become a national figure representing the families of Trayvon Martin, Michael Brown, Breonna Taylor and other people of color killed by police in this country. His book, in fact, is titled "Open Season: Legalized Genocide of Colored People."
McCownGordon Construction was presenting sponsor of this year's MLK luncheon. The honorary co-chairs were Bret Bonge and Marquita Miller-Joshua, MCC Foundation board members.
Giving fellow humans 'the benefit of humanity'
Crump may be best known for representing the family of George Floyd, killed by Minneapolis police in May 2020. The shocking, captured-on-video event prompted social justice protests across the United States and elsewhere. Crump told the MCC audience he was obligated to give Floyd - "a fellow human being" handcuffed face down on the street who told the four officers on top of him that he couldn't breathe -- "the benefit of humanity."
Crump's grandmother taught him as a little boy that he was blessed and "you have an obligation to pass those blessings on," to help those who have no voice.
King's famous dream - including the hope that his children would "one day live in a nation where they will not be judged by the color of their skin but by the content of their character" -- is embedded in the American Dream, Crump said. "Do you believe the Declaration of Independence" and its assertion that all Americans are entitled to life, liberty and the pursuit of happiness? he asked.
To be sure, there's been progress on the racial justice front since MLK's day. In 2021, mostly white juries convicted the three defendants in the death of Ahmaud Arbery in Georgia and a police officer in Daunte Wright's killing in Minnesota. Then again, Crump noted that when a 911 operator asked what Arbery was doing, "the response was, 'He's a black man running in our neighborhood.' "
Attendees received copies of Crump's book, and he stuck around after the luncheon to sign them.
What would Dr. King say in 2022?
In her remarks, Chancellor Kimberly Beatty noted the troubled times we're living in: A deadly pandemic. Divisiveness in our country that "threatens common civility." The deaths of Floyd, Arbery, Wright and many others "more than five decades after Dr. King was assassinated."
She wondered what the civil rights icon might say today. In his 1963 "Letter From Birmingham Jail," he encouraged people to rise up and peacefully take action, Dr. Beatty said.
So what can we do in 2022? Get involved, the chancellor said. Use our voices. Become active and give back to our communities. Be brave when it comes to speaking up and speaking out. "And it may be as simple as being open to civil conversation," she added.
That notion is reflected in the piece by KC artist Felix Maull: "We see two individuals coming together to shake hands and engage in civil conversation," Dr. Beatty said. "What an amazing idea! A civil conversation."
MLK scholarship winners announced
The 2022 recipients of the Chancellor's Martin Luther King Jr. Scholarship, worth one year of MCC tuition, were recognized at the event. They are (from left, flanked by Chancellor Beatty and the MCC Foundation's Billy Dunbar):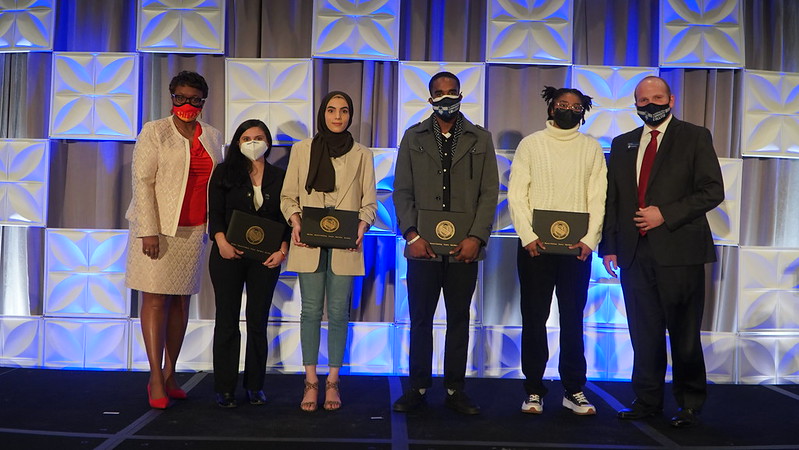 Karla Estevez de Leon, studying professional nursing, MCC-Penn Valley
Dunia Qakei, working on an associate in arts degree, MCC-Longview
Jer'Ron McCallop, studying HVAC, MCC-Business & Technology
Ariel Levy, studying teaching and education, MCC-Blue River
(Not pictured) Rachel Williams, a recent A.A.S. veterinary technology grad, MCC-Maple Woods
Meet the five 2022 MLK scholarship winners

Kansas Citian Inspiration Award winner
At a virtual cocktail reception the evening before the MLK luncheon, the MCC Foundation announced the second recipient of the Alvin Brooks Kansas Citian Inspiration Award. Brooks himself was shown presenting the 2022 award to Mamie Hughes on Zoom.
Hughes is a longtime political and civil rights activist in Kansas City. One notable role was serving as ombudsman for citizens affected by construction of Bruce R. Watkins Drive (a portion of U.S. 71). It was a controversial project that "just destroyed the central city," as one neighborhood leader told The Kansas City Star.