Art Faculty Exhibition - September 1 - 17, 2022
The MCC Art Faculty will present their latest works in this annual exhibit, including ceramics, sculpture, painting, drawing, photography, graphic design, and mixed media.
Schedule of Events
Opening Reception: Thursday, September 1, 6 p.m. - 8 p.m.
Artist Talk: Thursday, September 1, 6 p.m.
First Friday: September 2, 1 p.m. - 8 p.m.
Download exhibit postcard (PDF)
Gallery Hours:
Tuesday - Friday: 1 p.m. - 5 p.m.
Saturday: Noon to 3 p.m.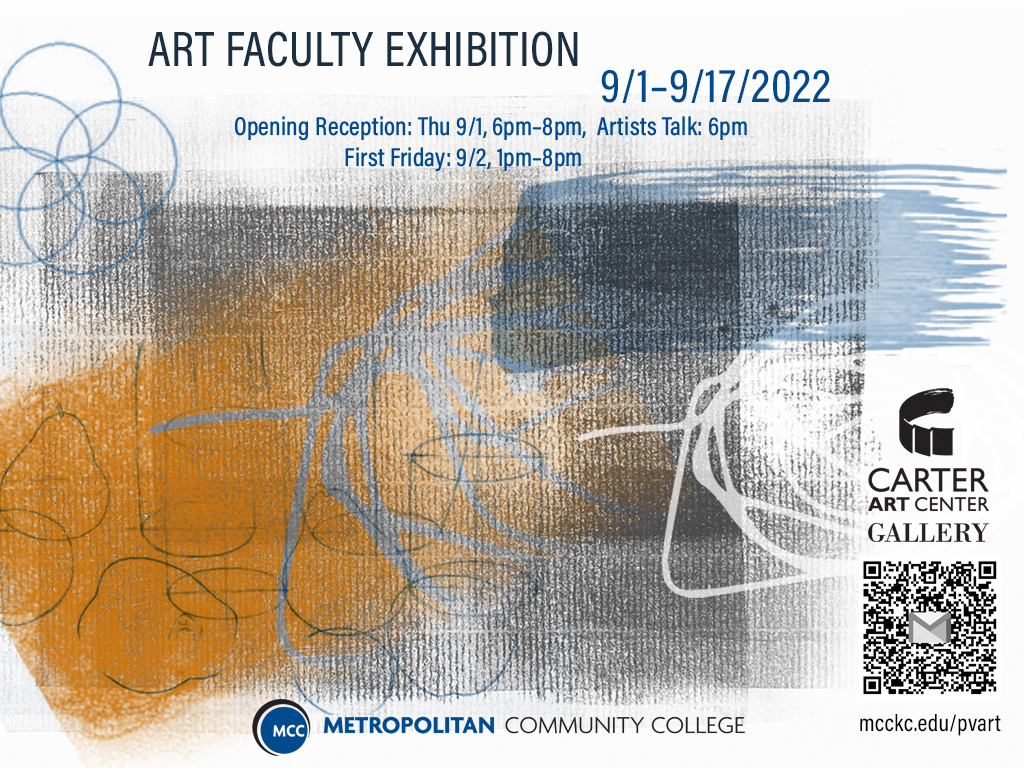 ---
About Carter Art Center
The Carter Center for Visual Arts and Imaging Technology (also known as the Carter Art Center)
Graphic design and art have always been stand-out programs at MCC-Penn Valley. In March 2003, Penn Valley dedicated the 25,000 square foot Carter Art Center which provides state-of-the-art computer labs, lecture hall, fine art studio spaces and gallery.
Each year hundreds of students in the Kansas City region take day and evening classes in the graphic arts, studio arts and art history, preparing for transfer to baccalaureate programs or immediately to professional practice. Students benefit from study with MCC faculty who are skilled and prolific in their respective fields.
The gallery provides a gathering place for community and students to celebrate and enjoy the visual arts, featuring exhibits that educate, challenge and inspire through a wide variety of media, techniques and artists. On the lawn outside of the Carter Art Center, you'll find a stainless steel sculpture by Rita Blitt, "Black Box VII: Aspects of Nature II." Even more artifacts of a permanent collection can be found in Anna's Room and throughout the entire building.
We encourage you to join the Friends of the Carter Art Center and help provide financial and community support so the college can continue to grow through its quality art exhibits, scholarships and opportunities for arts education. Several students each year benefit from the gift and scholarship support. "Friends" get VIP access to exhibit previews.
The Carter Art Center reviews proposals for exhibitions on a yearly cycle. Group and solo exhibitions are possible and all media are considered. Exhibiting artists are encouraged to give public talks and/or critiques for students. Interested artists can contact the Gallery Director regarding exhibition prospects.
Mission
The mission of the Metropolitan Community College Art Program is to develop students' visual literacy and awareness that art is practiced in a variety of forms within different cultures.
Location and contact information
The Carter Art Center Gallery
3201 SW Trafficway,Kansas City, MO 64111
The gallery is open for visitors, Tuesday - Friday, 1-5 p.m.
Follow us on twitter: @cartergallery
---
MCC Graphic Design Program
Graphic Design Program Information
Program Coordinator: Darlene Town, 816.604.4757