New KCI airport's 'Dream Clouds' have an MCC connection
---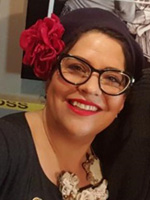 The new Kansas City International Airport opened Feb. 28, and it looks really cool. The one-terminal KCI also includes $5.6 million of newly commissioned public art by about 30 artists. Like the piece above called "Dreaming of the Beautiful Places You Will Go" by artist and MCC-Penn Valley art instructor Bernadette Torres.
The acrylic structure features digital images of "dream clouds" and flowers from Torres' ceramic artworks. Anyone who's been around Torres knows she loves flowers, and it turns out she grew up the daughter of a florist. And yes, the face you see is the artist herself.
"The self-portrait in this artwork is in a state of wanderlust, eyes wide open dreaming of what I lovingly refer to as 'dream clouds' that attract enchanting butterflies representing endless opportunities to come," Torres explains in the public art section of the new KCI's new website, flykc.com.
You can find "Dreaming" in a departure lounge near Gate B57. By the way, you're seeing some reflection off the plexiglass in the photo — the words on the face are being picked up from across the way.