Chiefs' Travis Kelce provides star power at opening of Community Access Center in south KC
---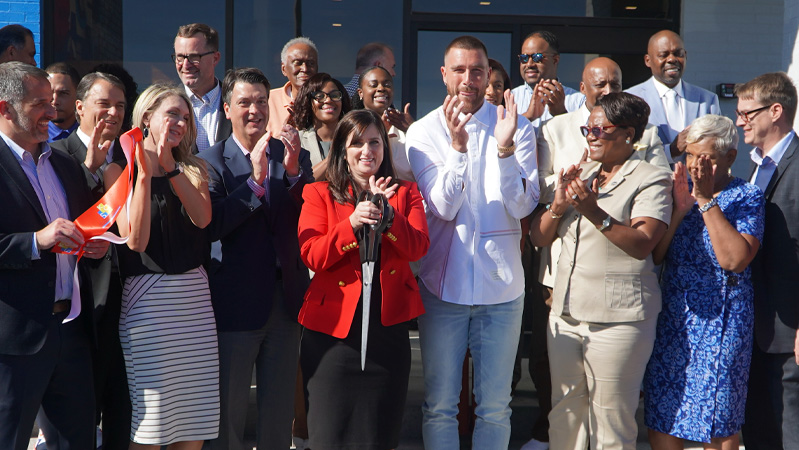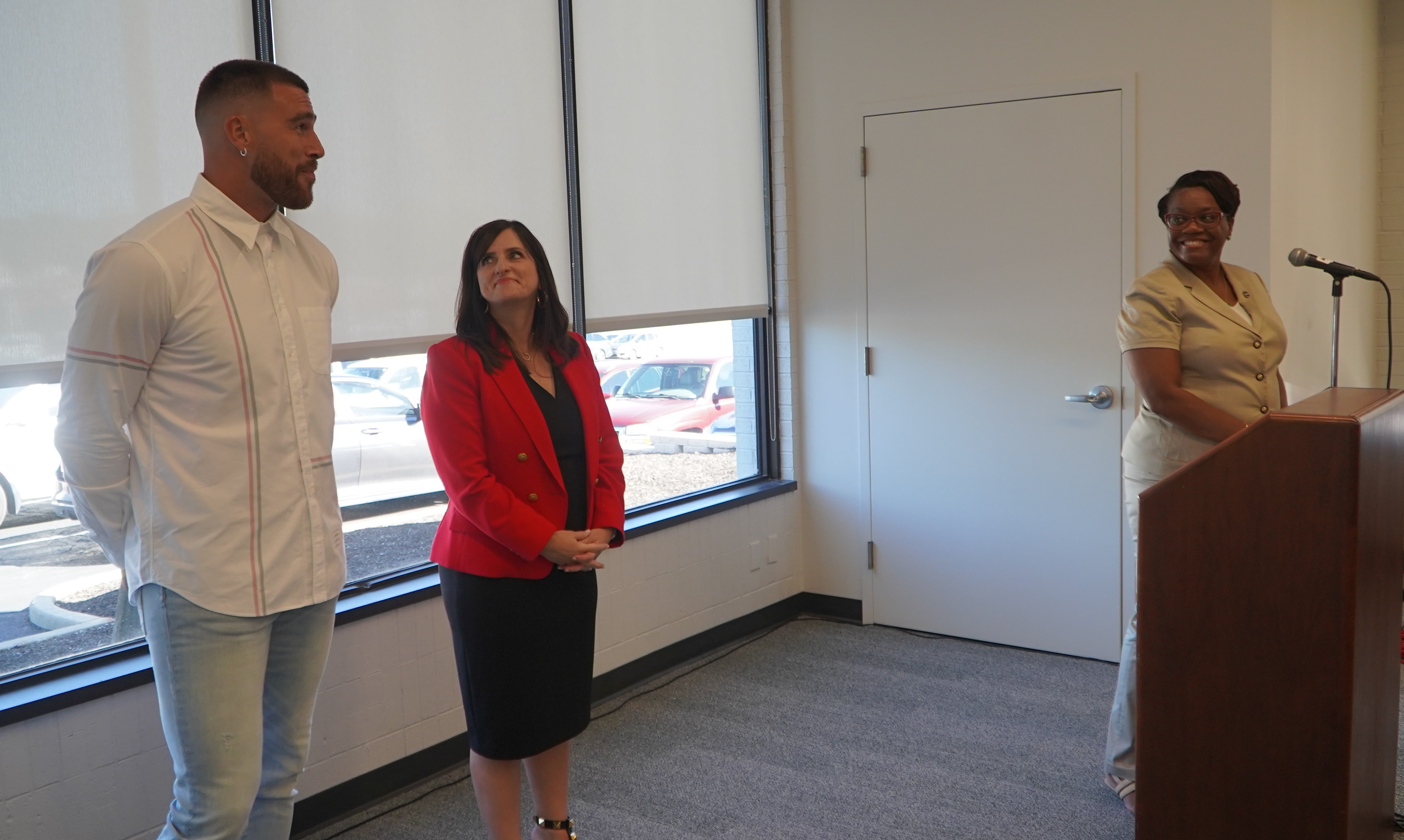 Speakers at the opening of the Community Access Center included Chiefs tight end Travis Kelce (from left), CommunityAmerica Credit Union CEO Lisa Ginter and MCC Chancellor Kimberly Beatty.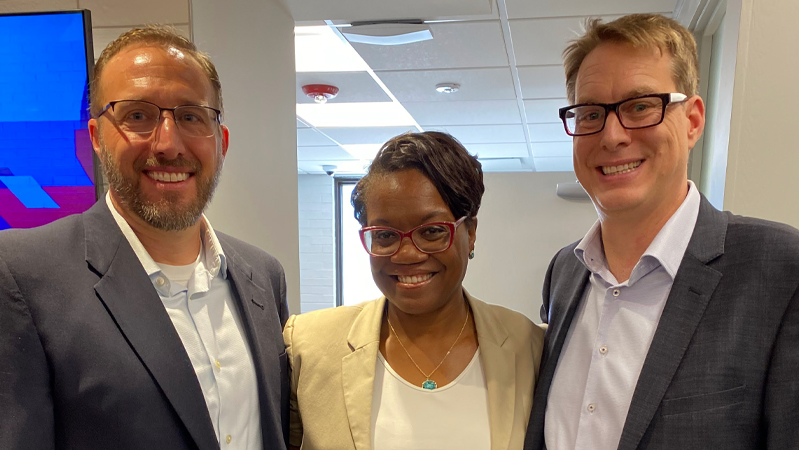 MCC Foundation board chair Bret Bonge (from left), Chancellor Kimberly Beatty and Board of Trustees president Trent Skaggs
A delegation from Metropolitan Community College was on hand Aug. 30 to celebrate the grand opening of CommunityAmerica Credit Union's first Community Access Center, in the Hickman Mills neighborhood of south Kansas City.
At the Access Center, CACU will offer financial coaching and related services to the public. Meanwhile, the second floor is dedicated MCC-Longview space: exploratory technical skills training will employ virtual reality and simulators, and the Educational Opportunity Center managed by the College will provide college and career counseling. MCC, partnering with Literacy KC, will also offer adult literacy, English language learning and high school completion classes.
Lisa Ginter, CEO of CommunityAmerica, said a series of listening sessions with community members and area businesses allowed CACU to identify four "traits" that are keys to financial stability:
Financial well-being
Education
A community support system
Personal health and well-being
"When something is off in any of these quadrants," Ginter said, "it creates stress."
Ginter said she values MCC Chancellor Kimberly Beatty's expertise in education, and collaborating with MCC on the first-of-its-kind center was an easy choice to address the educational gaps that can be "barriers to banking."
Dr. Beatty said she considers the Community Access Center to be a "launch pad" for individuals who can come to the center, build financial literacy skills, explore career options, then "head to Longview" (5 miles away) for additional education, training or a degree.
"We will keep having conversations and listening to the community," Dr. Beatty said. "We will continue evolving and growing as we hear what is needed."
As for the highlight of the grand opening, that seemed to be the appearance of Kansas City Chiefs tight end Travis Kelce (also a CACU spokesperson). Kelce is known for his work with Operation Breakthrough, a KC nonprofit serving low-income children and families.
In a moment of levity, Dr. Beatty's notes slipped from the podium, and — turning to Kelce — she admitted, "You make me nervous."
Audience members' empathetic giggles turned to delight and wholehearted applause when, without saying anything, the Chiefs star immediately walked to the chancellor's side, retrieved her papers from the floor and carefully placed them back on the podium. The room was all smiles.
For his part, Kelce shared with attendees that facilities like the Community Access Center go a long way toward breaking the cycle of poverty. He pointed out that we don't all have access to the same resources growing up, and financial literacy doesn't always come easy for people.
"We either learn it in school or on the run," Kelce said. Admitting that learning to manage finances has definitely been more "on the run" in his own experience, he said he's excited about the opportunities the Access Center will bring to the community.
The first floor of the Community Access Center houses Community America services. There, visitors will find office spaces, a lecture room and a multipurpose space that will be useful for collaboration or small-group instruction.
MCC occupies the second floor, which was designed by a planning team at MCC-Longview. It features a reception area, coffee bar, two classrooms, two offices, a conference room and a large open area —with comfortable-seating areas, round tables and a high-top table with laptop charging ports — that can be leveraged for a variety of instructional, meeting or consultation opportunities.
The Community Access Center, at 11501 Blue Ridge Blvd., Kansas City, is open 9 a.m.-5 p.m. Monday-Friday.