MCC-Maple Woods students poke the Bard in a 'Macbeth' parody written by instructor Matthew Williamson
---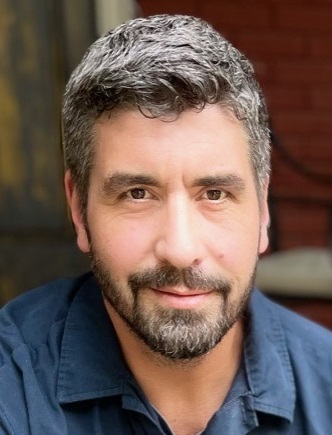 Matthew Williamson (pictured right), an MCC-Maple Woods adjunct theater instructor, had run across a parody of Shakespeare's "Macbeth," but the humor was moldy. So he ended up completely rewriting the script (but with "a healthy dose" of the Bard's language).
The resulting one-act play, "Macbeth! A Comedy of Terrors," will be performed by Maple Woods students March 2-5 (details below). Williamson is also directing. Off campus, he's a working actor who recently finished a Moliere play for Kansas City Actors Theatre and starting April 15 will appear in "The Play That Goes Wrong" at New Theatre & Restaurant in Overland Park.
Q: Does one need a deep appreciation of Shakespeare to write a Shakespeare send-up?
Williamson: It certainly helps. It's hard to adapt jokes if you don't understand the source material. "Macbeth" is one of my favorites, though, so it's been rattling around in my brain for years. It's so bloody, violent and dark that I thought it would be perfect to lampoon.
Do you think your acting students have gained some appreciation of Mr. Shakespeare through this project?
I think any type of positive exposure to Shakespeare helps students appreciate it more. The more they interact with it, the easier it is to understand. Once they realize that Shakespeare's plays are about human beings doing human stuff, they don't feel so inaccessible anymore.
How would you grade your ability as a comedy writer?
Not sure! I guess we'll find out. This is the first play I've ever written. I write to make myself laugh and then hope for the best after that. I went for a mix of readily available humor and more subtle humor for those who know the play really well.
Is the play really funny or "Shakespeare funny"?
I think they can be one and the same. "Shakespeare funny" is really funny when you understand the setup and punchline. I just tried to make the setup and punchline a bit more accessible. Also, even though this play is a parody, there are moments of serious emotion.
Does one need to revisit "Macbeth for Dummies" before attending this production? Uh, he was a Scottish king and ...?
Not at all. Lack of exposure does not a dummy make. If anything, watching this production should make you want to seek out one of the movie versions or go see Shakespeare in the Park. I wrote this as an educational tool so the actors and the audience would have a greater understanding of Macbeth than they did before.
Will we get to see Maple Woods students in flowing Shakespearean costumes?
We did a staged reading of my first draft last semester in my Acting 1 class. This, however, will be a full production complete with swords, helmets, armor, severed heads and walking trees.
After this is over, we assume your students will call themselves Shakespearean actors and you will tell people at parties that you've directed and produced Shakespeare on stage.
I don't like to put labels on stuff like that. If you're an actor who is saying Shakespeare's words, then you are a Shakespearean actor in my opinion. At the end of the day, Shakespeare's characters are just people going after what they want, just like everyone else.
The show
Admission to "Macbeth! A Comedy of Terrors" is free. The play runs about 45 minutes.
Location: MCC-Maple Woods Student Center Room 132, 2601 N.E. Barry Road, Kansas City.
Performances at 3 p.m. Wednesday-Thursday, March 2-3, and 7 p.m. Friday-Saturday, March 4-5.